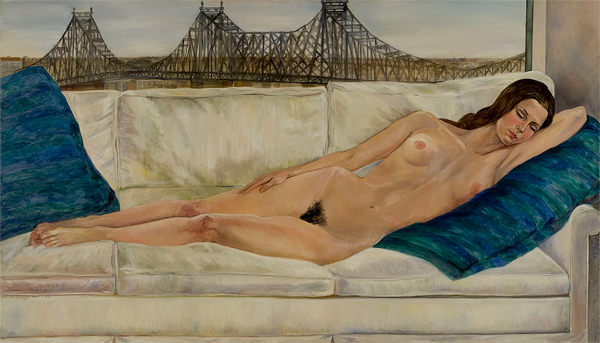 The Bridge, 1963, Oil on Canvas, 48 1/4 in x 84 1/4 in
---
Title: The Bridge
Artist: Sylvia Sleigh
Year: 1963                          
Painting: Oil on Canvas   
Size: 48 1/4" x 84 1/4"

Price on Request. For more information about The Bridge, please e-mail us at TheParityStore@parityproductions.org. 
While many of her early paintings are small, Sylvia Sleigh began to work on a considerably larger scale in 1959. This coincided with her renewed interest in painting the traditional female nude, which she wished to situate in a modern context. When The Bridge was completed in 1963, it was Sleigh's largest canvas. Her source of inspiration was Giorgione's slightly smaller Sleeping Venus (c. 1508–10; Dresden, Gemäldegalerie Alte Meister). In her predecessor's painting, the idealized female nude reclines in an Italianate landscape with buildings in the middle ground. The Bridge shows a similarly unclothed woman, but she lies instead on the artist's cream-colored sofa before a window that overlooks the 59th Street Bridge in Manhattan. The young model, Johanna Lawrenson, had appeared in Claes Oldenburg's Ray Gun Theater, a series of ten Happenings, in 1962. Just over a decade after Sleigh painted her, Lawrenson became the partner of Abbie Hoffman, the influential social activist and co-founder of the Youth International Party (Yippies).
Essay provided by Andrew Hottle © 2016-17
A letter of authenticity will be issued for each work by Dr. Andrew D. Hottle.
© Estate of Sylvia Sleigh

For more information about The Sylvia Sleigh Endowment to Parity Productions, please email us at TheParityStore@parityproductions.org
---