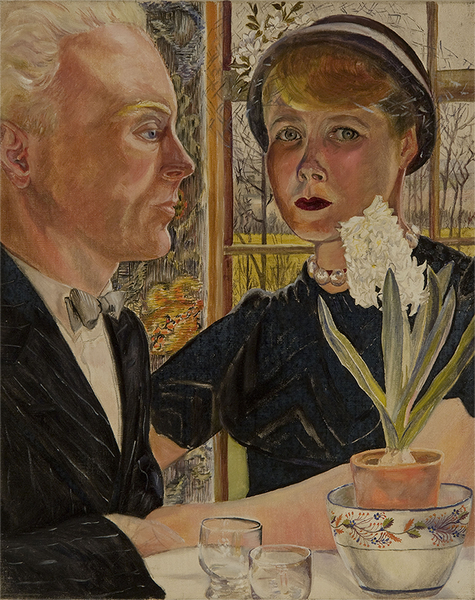 At the Café, 1950, Oil on Canvas, 19 7/8 in x 16 in
---
Title: At the Café
Artist: Sylvia Sleigh
Year: 1950                       
Painting: Oil on Canvas
Size: 19 7/8" x 16"    

For more information about At the Café, please e-mail us at TheParityStore@parityproductions.org. 
Although this double portrait of Lawrence Alloway and Sylvia Sleigh is undated, the artist's records indicate that it was created in early 1950. The painting, which ostensibly represents a café interior, was actually executed in Alloway's bed-sitting-room at Blackheath Park in London. Both the environment and the portraits were painted from life, but Sleigh cleverly introduced the table setting and restrained attire to suggest that she and Alloway were seated in a public place. As she later explained, the double portrait "commemorates the many times that I had to leave Lawrence and return to Pett. ... Many times when he took me to the station we went to a café while waiting for my train." At the time, Sleigh was still living in the village of Pett with her first husband, Michael Greenwood. She and Alloway maintained their amorous relationship through copious letters and frequent visits until her marriage to Greenwood was legally dissolved in 1954. Shortly thereafter, Sleigh and Alloway were married. They remained together until his death in 1990.
Essay provided by Andrew Hottle © 2016-17
A letter of authenticity will be issued for each work by Dr. Andrew D. Hottle.
© Estate of Sylvia Sleigh
​
Love this Piece? It's also available as a Limited Edition Greeting Card