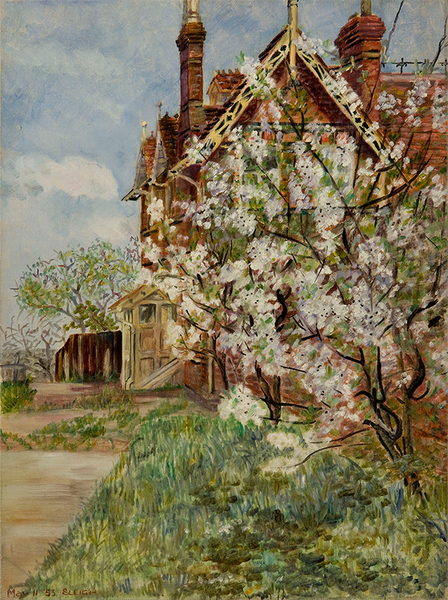 Morellos at the Back Door, 1953, Oil on Canvas, 16 1/2 in x 12 1/4 in
---
Title: Morellos at the Back Door
Artist: Sylvia Sleigh
Year: 1953
Painting: Oil on Canvas
Size: 16 1/2" x 12 1/4"
Price on Request. For more information about Morellos at the Back Door, please e-mail us at TheParityStore@parityproductions.org. 
This is one of several paintings that depict the Rectory Lodge in the village of Pett, where Sylvia Sleigh lived for several years. In the foreground is a flowering morello cherry tree that partially obscures the building behind it. The painting reveals Sleigh's interest in gardens and topographical landscapes. The Rectory Lodge was demolished in the 1960s.
Story provided by Andrew Hottle © 2016-17
A letter of authenticity will be issued for each work by Dr. Andrew D. Hottle.
© Estate of Sylvia Sleigh
​
Love this Piece? It's also available as a Limited Edition Greeting Card 
For more information about The Sylvia Sleigh Endowment to Parity Productions, please email us at TheParityStore@parityproductions.org