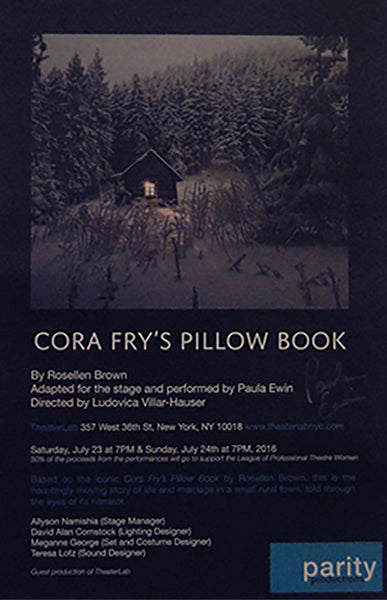 Parity Productions' Exclusive "Cora Fry's Pillow Book" Poster (Signed)
Based on the iconic Cora Fry's Pillow Book by Rosellen Brown, this is the hauntingly moving story of life and marriage in a small rural town, told through the eyes of its narrator. We are excited about Cora Fry's Pillow Book being one of Parity's current 'in development' productions. Starring Paula Ewin and directed by Ludovica Villar-Hauser. This exclusive copy is personally signed by Paula Ewin, from our July, 2016 developmental production. Paula Ewin is a Founding Member of the acclaimed Off Broadway company 29th Street Rep and a proud member of AEA, SAG/AFTRA and The League of Professional Theatre Women. 
50% of every purchase supports our upcoming production of MIRRORS by Azure D. Osborne-Lee at Next Door at NYTW.