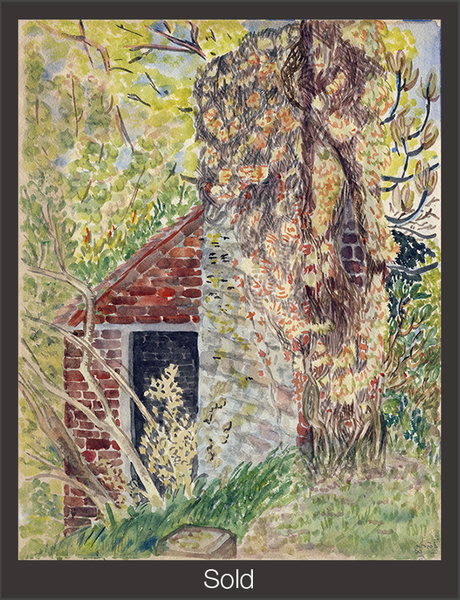 Shed and Wall, 1949, Watercolor on Paper, 11 7/16 in x 9 in
Title: Shed and Wall 
Artist: Sylvia Sleigh
Year: 1949
Painting: Watercolor on Paper
Size: 11 7/16" x 9"   
The Rectory Terrace, Looking East and Shed and Wall watercolors show two views of the landscape near the Rectory Lodge at Pett. In Shed and Wall, Sylvia Sleigh chose an unusual vantage point for the fragmentary brick wall, which is nearly perpendicular to the picture plane. The shed is visible behind it. Her watercolor of the terrace similarly provides a glimpse of trees and fragments of architecture.
Essay provided by Andrew Hottle © 2016-17
© Estate of Sylvia Sleigh

For more information about The Sylvia Sleigh Endowment to Parity Productions, please email us at TheParityStore@parityproductions.org