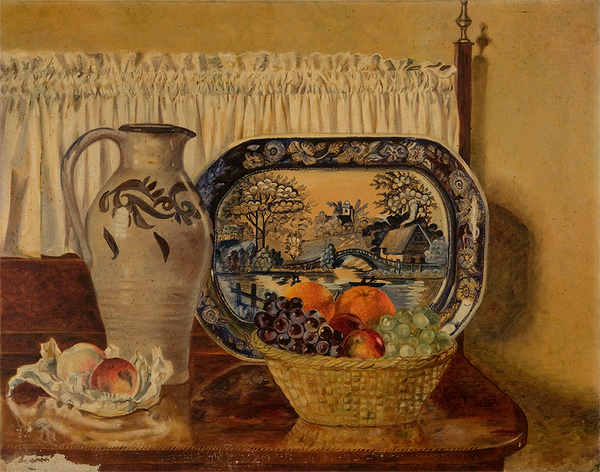 Still Life for a Restaurant #2, 1952, Oil on Canvas, 25 7/8 in x 32 7/8 in
---
Title: Still Life for a Restaurant #2
Artist: Sylvia Sleigh
Year: 1952                  
Painting: Oil on Canvas
Size: 25 7/8" x 32 7/8"    
Price on Request. For more information about Still Life for a Restaurant #2, please e-mail us at TheParityStore@parityproductions.org. 
In 1951, Sylvia Sleigh was commissioned to execute three still life paintings for a restaurant that was owned by a friend. The canvases were displayed for two or three years, after which they were returned to the artist. As Sleigh later recalled, she was compelled to clean the "absolutely revoltingly filthy" paintings. Her fully cleaned Still Life for a Restaurant #2, however, carries a reminder of its unfortunate history. Some paint loss is evident in the lower left corner along the edge of the sideboard.
Essay provided by Andrew Hottle © 2016-17
A letter of authenticity will be issued for each work by Dr. Andrew D. Hottle.
© Estate of Sylvia Sleigh

For more information about The Sylvia Sleigh Endowment to Parity Productions, please email us at TheParityStore@parityproductions.org