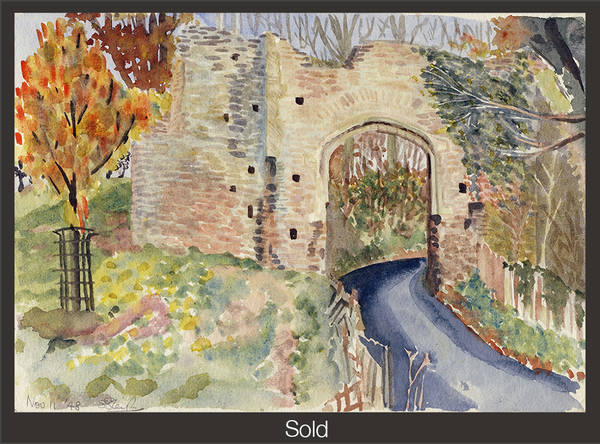 Winchelsea Gate, 1948, Watercolor on Paper, 6 7/8 in x 9 7/8 in
Title: Winchelsea Gate
Artist: Sylvia Sleigh
Year: 1948            
Painting: Watercolor on Paper 
Size: 6 7/8" x 9 7/8"    
The Bodiam Castle and Winchelsea Gate watercolors were painted within two days of each other. They were completed during Sylvia Sleigh's outings with her first husband, Michael Greenwood. They first visited the ruin of the fourteenth-century Bodiam Castle, followed by a trip to Winchelsea Gate.
Essay provided by Andrew Hottle © 2016-17
© Estate of Sylvia Sleigh
For more information about The Sylvia Sleigh Endowment to Parity Productions, please email us at TheParityStore@parityproductions.org