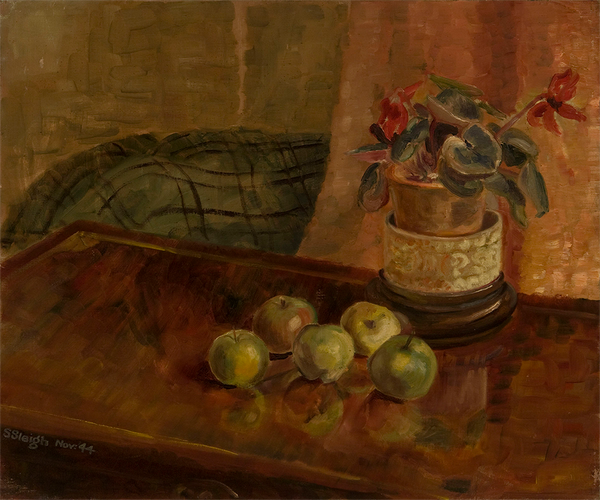 Winter Apples, 1944, Oil on Canvas, 20 in x 24 in
---
Title: Winter Apples
Artist: Sylvia Sleigh
Year: 1944                      
Painting: Oil on Canvas
Size: 20" x 24"    
Price on Request. For more information about Winter Apples, please e-mail us at TheParityStore@parityproductions.org. 
Winter Apples and Roses in a Basket at Belsize Square are Sylvia Sleigh's earliest dated still life paintings; they were completed when she was 28. The roses form a loose diagonal that runs from the upper left corner to the grouping of petals that have already dropped onto the reflective tabletop at the lower right. One blossom has partially disappeared behind the rim of the woven basket. In the other painting, five late-season apples rest on the same polished wood surface, joined only by a flowering plant in a clay pot that seems to be too small for its decorative planter. The winter apples, meager plant, and simple environment were coupled with a muted palette to yield a humble still life composition.
Essay provided by Andrew Hottle © 2016-17
A letter of authenticity will be issued for each work by Dr. Andrew D. Hottle.
© Estate of Sylvia Sleigh
For more information about The Sylvia Sleigh Endowment to Parity Productions, please email us at TheParityStore@parityproductions.org